4 Tees Community Resources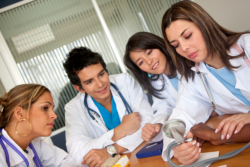 Home Health Care Services
To ensure that we are providing the highest quality of care, we guarantee you that our caregivers are highly proficient and trained in providing home health care services. Our dedicated team consists of: Home Health Aides, Medical Social Workers, Occupational Therapists, Physical Therapists, Personal Care Attendants, Registered Nurses, and Respiratory Therapists.
Private Duty Services
At 4 Tees Community Resources Agency, we recognize and fully comprehend the needs of our clients. We understand that there are clients who require extra assistance or choose to receive care at home. To meet these client's needs, we provide a broad range of home health care services including: Personal Care Services, Private Duty Nursing, and Therapy Services right at their residence!
With our skilled and compassionate home health care professionals, we endeavor to assist and educate our clients so that they can become an active participant in their own health and well-being. For example, learning the proper use of assistive devices can help you become as independent as you can be.
We recognize that our clients have different situations and needs. This is why we customize our services for every client. More than that, our services can also be acquired for different lengths of time – you can acquire it for just a few hours or up to 24 hours, 7 days a week!
Services
Our services include, but are not limited to:
Assistance with Exercise Therapy
Ambulation/Transfer
Bathing and Grooming
Companionship
Grocery Shopping and Errands
Laundry
Light Housekeeping
Light Meal Preparation and Assistance
Live-in Assistance
Medication Reminders
Respite Care
To learn more, please don't hesitate to call us at 862-252-9586.
Skilled Nursing Services
Do you, or a loved one, require advance health care assistance? At 4 Tees Healthcare Training School, we have Registered Nurses who can provide you with the skilled care that you need. As directed by your physician, our Registered Nurses can perform a wide range of services including, but are not limited to:
Assessment of Patient
Catheter Care
Diabetic Care
Evaluation and Implementation of Care Plan
Home Safety
IV Therapy
Medication Education and Management
Ostomy Care
Pain Management
Patient and Family Education on Health Concerns
Tracheostomy Care
Wound Care
To learn more about our services, please give us a call at 862-252-9586.